Culford Road N1- Extension Side & Rear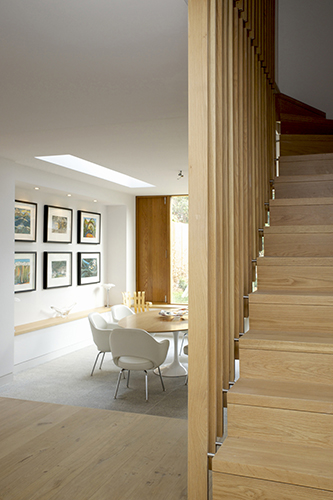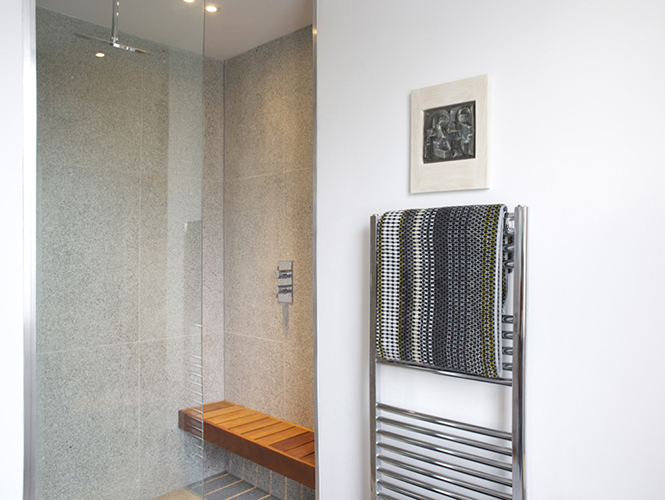 The original house had a cottage feel. We didn't keep very much of the original house been retained, such as cornicing, skirtings and architraves, and the clients were very keen to adopt a contemporary approach - not just in the extended areas but throughout the main body of the house. This went as far as an ambition to remove the existing Victorian stair and build a new open slatted oak stair running through all levels of the house.
At the lower ground floor level the property has been extended to the side and rear. Due to the low floor to ceiling height at this level the floor level has been reduced to provide a more generous, proportionate feel to the open plan arrangement. The material palette is the same for both internal and external spaces which is predominantly oak and silver-grey granite. Internally the flooring is in the oak with a silver grey granite to the dining area . Granite worktops with oak shelving and cabinetry. Externally the fenestration is made up large fixed pane glazed screens in oak frames, oak shutters and a sliding glazed oak door. The lower level extension is clad in vertical slatted oak panels whilst the remainder is finished in reclaimed London stocks. The same material vocabulary repeats up through the upper levels of the house. All flooring is in engineered oak apart from the bathroooms and utility spaces which are finished in silver grey granite, the bathrooms have accompanying iroko cabinetry, shelving and cladding.
One of the owners trained as an architect and now owns an online contemporary furniture company (http://www.material-life.co.uk - the collaborative input is evident throughout.
Completion Date November 2013. Contract Period 26 weeks.